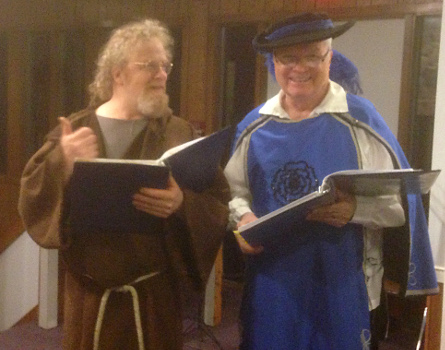 Have you ever thought about joining a small singing group? We have a great bunch of folks here now, but we'd love to add another soprano, alto, low bass, and possibly a tenor.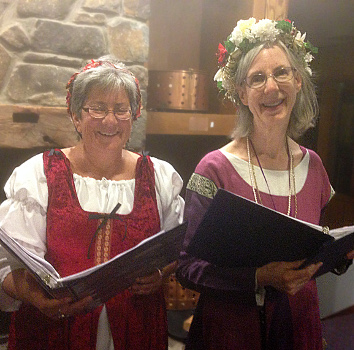 Our repertoire is primarily medieval and renaissance madrigals and motets in the European tradition, but we occasionally mix in modern settings of period lyrics and other modern music which fits stylistically. We perform periodically, both in public concerts and at area elder care facilities.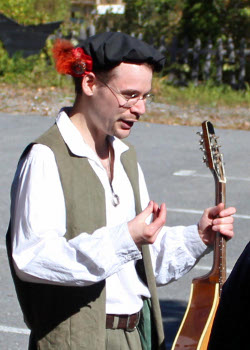 Our members have various musical backgrounds. You don't need to have had any formal training or experience performing, but you should be able to hold your own part in a quartet once you've learned it, and to sightread simple music. All of our members sing and dress in period garb for performances, but there are additional opportunities to spiel, dance, and play period-appropriate instruments if you so choose.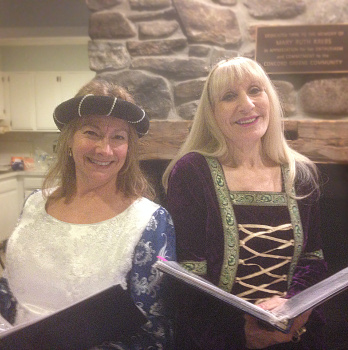 We're a volunteer group, which means that we don't get paid, but we don't have any membership dues either. We do ask for a time commitment... we rehearse from 7 to 9 every Thursday evening year round, except for holidays. We meet at each others houses on a rotating basis, which are located throughout central and eastern Massachusetts, currently extending from Worcestor to Arlington.
If this sounds like something you'd like to try, please let us know!